MAKE A DONATION
WorldDenver is a nonprofit organization that connects Denver to the world through international exchange, education, and personal interaction with international leaders, professionals, and students. We are the leading international engagement nonprofit in Denver and our work would not be possible without the financial support of our members and the community. Make a tax-deductible gift today.
BECOME A MEMBER
At WorldDenver, membership is the core of our organization, providing the base of support, financial and voluntary, that connects Denver to the world through WorldDenver's one-of-a-kind programs. Providing value for our membership and high quality in our programming is crucial to sustaining our commitment. Explore the following membership options: Individual Membership, Diplomats Council, Corporate and Academic Membership.
VOLUNTEER WITH STUDENTS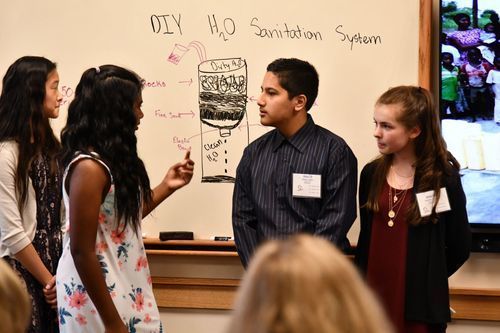 Judge student entries in the World Affairs Challenge programs. Ever wanted to be on Shark Tank? Here's your chance to weigh in on innovative solutions to some of the world's most pressing problems. The WAC programs can't happen without our volunteer judges who watch student presentation videos and join live virtual Q&A sessions with youth teams to help them evaluate their service project pitch presentations. Select times that work within your schedule to support these emerging global leaders from around the world! Learn more and sign up.
ATTEND AN EVENT
We hold over 40 events each year, from speakers series featuring experts on world affairs to networking receptions with international visitor groups. Learn more
HOST INTERNATIONAL VISITORS
Members enjoy the benefit of volunteering with visiting international delegates. Whether it is taking them to meetings with government and business leaders, hosting them in your home for dinner and conversation with your friends and family, or cheering on the Denver sports teams together, your presence is requested! Learn more about WorldDinners and Homestay Hosting or sign up to volunteer as a host today!
INTERN
WorldDenver Volunteers and Interns are essential to our success as an organization. We invite you to join us in advancing our mission, whether you wish to gain important skills for future endeavors or you are just looking for a valuable way to spend some free time! Learn more
JOIN OUR TEAM
WorldDenver is hiring a full-time International Exchange Programs Coordinator, available beginning August 2023. Learn more here and apply by sending your cover letter, resume, and 3 references to Careers@worlddenver.org.
HELP FUND OUR PROGRAMS
WorldDenver is a 501(c)3 non profit organization that depends on community support to fulfill its unique mission of connecting Denver and the World. Learn more