Travel to Guatemala November 12-19, 2023
Join WorldDenver and Friendship Bridge for a week of culture, inspiration, and citizen diplomacy in Guatemala!
Guatemala City ~~ Panajachel ~~ Antigua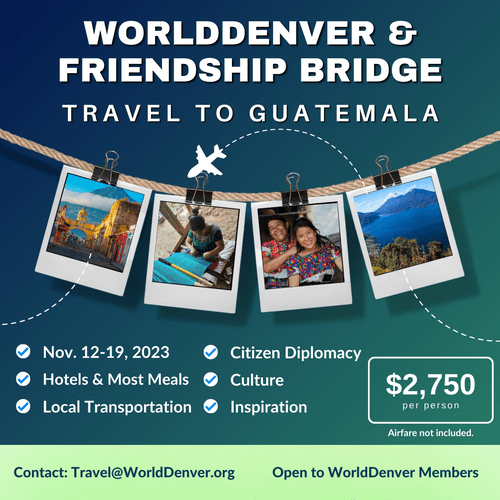 WorldDenver is thrilled to partner with our 2023 International Women's Day honoree, Friendship Bridge, to host a unique trip to Guatemala this coming November 12th to 19th.
Not only will travelers have the opportunity to meet with WorldDenver's partners in Guatemala and attend the annual Festival de las Flores in Antigua, you will also visit with Friendship Bridge's clients and experience firsthand their impact as the Best Workplace for Women™ in Central America and the Caribbean 2022-2023.
To reserve your spot, submit your $500 deposit here.
Questions? Email Travel@WorldDenver.org
There will only be 10 spots available for this trip, so secure your place soon! This trip is reserved for WorldDenver Members only; become a Member here.
FAQ
How much does the trip cost?
The cost per person is $2,750 which covers all lodging, most meals, and in-country transportation costs. Airfare is not included. Individuals and couples will receive their own private rooms at all hotels.
A $500 non-refundable deposit is required upon booking to secure your spot.
The remaining balance of $2250 is due 30 days prior to the trip.
Who is leading the trip? 
Staff from both WorldDenver and Friendship Bridge will join travelers for the entirety of the trip. The group will also be joined by local partners of Friendship Bridge to guide meetings with clients. 
Are there mobility restrictions? 
Friendship Bridge clients live remotely and simply. Mobility and/or respiratory issues can make certain excursions difficult. Poor air quality is to be expected, as is walking some distance, up/down hill, on uneven surfaces; climbing repeatedly on/off buses; and boarding small boats without a ladder or gangplank. For the sake of the individual and the group, an inability to participate in any of these activities will result in abstention from those activities. Alternative accommodations cannot be guaranteed and refunds will not be given in such circumstances.
Who is Friendship Bridge?
Friendship Bridge is a 501(c)(3) nonprofit social enterprise with a mission to create opportunities that empower Guatemalan women to build a better life. Established in 1990 and headquartered in Lakewood, Colorado, Friendship Bridge operates 12 branch offices in Guatemala and provides a suite of products and services to over 34,000 women including microcredit, Non-Formal Education, and access to culturally-appropriate healthcare. Clients are 100% women, primarily indigenous Maya, and live in rural communities with some of the highest poverty levels worldwide.
Who is WorldDenver?
WorldDenver is a 501(c)(3) nonprofit organization dedicated to promoting citizen diplomacy  through international exchange, education, and global engagement in the Mile High City. Our exchange programs, implemented in partnership with the U.S. Department of State, bring over 600 international visitors from over 120+ countries to the Denver Metro area through programs like the International Visitor Leadership Program. As the World Affairs Council of Denver, we also host 30-35 community engagement events each year, featuring distinguished speakers and experts on global affairs. Lastly, the World Affairs Challenge education program empowers middle and high school students around the world to address issues facing their local communities through project proposals that align with the United Nations Sustainable Development Goals.