Volunteer or Intern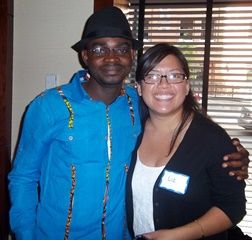 WorldDenver offers unique opportunities to work in a variety of responsible positions to fulfill our mission of citizen diplomacy and global understanding. 
All internships and volunteer positions are designed to provide the participants a professional and skill-enhancing experience, while maximizing the bandwidth of our small staff.  We ask that you are able to make a minimum time commitment of 3 months. Extended internships and volunteer opportunities (6 months or more) are available and encouraged. Interns and volunteers who opt for the extended time will be given more training and greater responsibilities. Please note that all internships are unpaid, but any out-of-pocket expenses interns may incur relating to the internship will be reimbursed.
WorldDenver accepts applications for and fills internships and volunteer positions on a rolling basis. Applicants are encouraged to apply early to secure placements in programs and functional roles that match their interests.
Benefits:
Complementary one-year membership and complementary registration for non-meal events during the internship term
Mentoring opportunities with the WorldDenver Board of Directors
Opportunities to meet some of the 500+ international visitors in Denver each year, and collaboration with like-minded Coloradans
Networking opportunities with the WorldDenver staff, Board, and well-connected members who are interested in and working within the field of international affairs
Experience working in the fields of international affairs and non-profit management
Academic credit (when enrolled in an academic institute)
References and recommendations (as appropriate)
Assistance and experience with resumes and interviewing skills
All interns and volunteers are required to possess proficient knowledge of basic computer systems. The intern or volunteer will be interacting directly with WorldDenver staff as well as professional resources and international visitors, so it is necessary that the intern possess a professional and mature attitude. Interest in international relations and cultural sensitivity are also desired.
A few opportunities are available for students eligible for work-study financial aid. Please contact us about these opportunities specifically if you are eligible for aid.
For additional information about specific internships and volunteer positions, please review the list below:
International Exchange Programs Internship
The exchange programs internship focuses on program coordination for the Visitor and Exchange Programs at WorldDenver, including the International Visitor Leadership Program and youth exchange programs. The intern will assist in the preparation of professional exchange programs, including researching, writing proposals, planning logistics, interacting with the local community, writing professional correspondence, and analyzing data. Interns will have the opportunity to attend appointments with international professionals and youth and assist with maintenance of program webpages and social media posts.
Development and Communications Internship
This internship will provide experience in carrying out various forms of communication and marketing and assessing and producing membership data. The intern will have communications responsibilities, such as writing blogs, taking photos and updating website pages, engaging with the local community, writing press releases, and otherwise advertising to the Denver community. Other responsibilities include assisting in member management duties, and attending committee meetings with groups such as the planning committee or the development committee. The intern may also assist in the planning of International Women's Day events.
Events Internship
The events intern will assist in the planning and execution of WorldDenver events, including the speaker series. This internship provides the opportunity to be involved in correspondence, logistics, and creating event advertisements. The intern will assist in day-of preparation for events and on-site logistics and will greet members. Responsibilities also include preparing materials, such as program information and promotional pages, and acting as liaison in the absence of a WorldDenver staff member.
Operations Internship
The operations internship will provide experience in human resources, information technology, and maintaining vendor relationships. The intern will also assist in staff training, reviewing staff work plans, and reviewing and revising organizational policies. Further responsibilities will include meeting assistance and special projects as needed.
To apply for an internship or volunteer opportunity, please complete an application and email it to careers@worlddenver.org, along with a current resume and writing sample, which may be a statement of interest or a cover letter.
Careers
WorldDenver is not currently hiring. Subscribe to our newsletter here to stay up to date about future career opportunities with our organization.