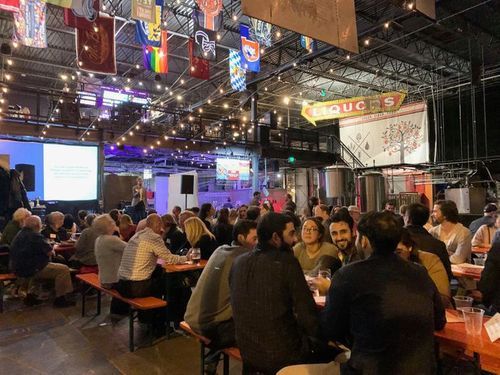 Global Cup Challenge is WorldDenver's annual high-energy pub-style trivia night on world affairs, hosted by the Young Professionals each fall. Teams compete for prizes and fame! 
Join the WorldDenver Young Professionals for our 8th Annual Global Cup Challenge Virtual Trivia Extravaganza! 
Grab your friends and come make new ones as teams go head to head for a virtual night of international trivia, exciting prizes, and unforgettable entertainment. While we observe social distancing from the comfort of our own homes, we have planned several engaging activities to heat up the competition. Hurry up and register for the chance to become 2020's virtual Global Cup Challenge champion!  
The cost of the night includes the chance to win fabulous prizes throughout the night, including coffee shop gift cards, restaurant delivery gift cards, top shelf bottles of wine, free memberships, and more! 
All funds raised for this event will go directly towards supporting WorldDenver's nonprofit mission to strengthen and expand the community of engaged global citizens and organizations in Colorado and to facilitate international exchanges after the COVID-19 crisis subsides.
TICKETS
$10 Individual: WorldDenver Member
$20 Team (3-5 players): WorldDenver Member
*please log into your member account to access the discounted member tickets!
$15 Individual: Non-Member
$30 Team (3-5 players): Non-Member
Registration closes on Sunday, October 18 at midnight
Teams and Registration FAQ
How many people can I have on a team?
Teams this year are limited to 3-5 members so that we can ensure equitalbe distribution of prizes to our winners. 
I don't have a team but I still want to play! 
Don't worry! You can register as an individual and we will group you with 2 to 4 other trivia enthusiasts for a surprise team that is sure to give the rest a run for their money! Through the integration of Zoom and our virtual trivia platform, you will have the opportunity to collaborate with your team and hopefully make some new friends!
I am working on pulling together my team, but I don't have everyone confirmed yet. 
It is easiest to register once you have your full team confirmed, however if you want to add on additional team members (up to the max limit of 5), you can email Talia Reynolds, our Membership and Events Coordinator, at Talia@WorldDenver.org and she will be happy to help you get your team squared away. 
What if I have more than 5 people on my team?
We recommend splitting into two teams (e.g. a group of 6 can become two teams of 3) so that any prize packages won can be distributed equitably. Our prize packages are designed for teams of 3-5, so any additional people on the team will stretch the distribution of the prizes more than is enjoyable for all team members.
What happens if my team wins a prize?
One of our WorldDenver staff members will reach out to the team's primary contact to coordinate prize pickup or delivery. We are committed to ensuring the comfort and safety of our community, and will be happy to work with you to set up curbside and/or contactless pickup at our office location or dropoff at a convenient location.